Arizona is a popular brand of iced tea and other beverages that has been a favorite of people around the world for over 25 years.
Known for its distinctive packaging and bold flavors, Arizona offers a range of drinks that are both delicious and refreshing. From classic sweet tea to fruity and tropical flavors, Arizona has something for everyone.
Arizona signature packaging & bold flavors
Another great thing about Arizona is their iconic packaging. Their signature tall, slim cans are instantly recognizable and have become a symbol of the brand. With eye-catching designs and bright colors, Arizona cans stand out on store shelves and are a favorite among consumers of all ages. Whether you're looking for a classic iced tea or something a little more exotic, Arizona has a drink for you.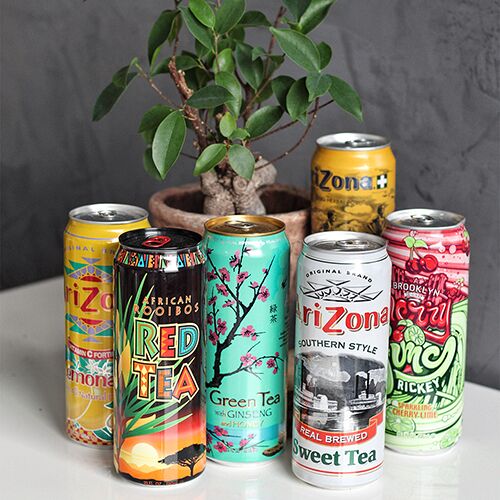 Made with premium tea leaves and natural flavors
Arizona offers a range of delicious and refreshing flavors, including classic sweet tea, fruit punch, green tea, lemonade, peach, raspberry, and more. Whether you're looking for something sweet or tart, fruity or tea-based, Arizona has a flavor to satisfy your thirst.